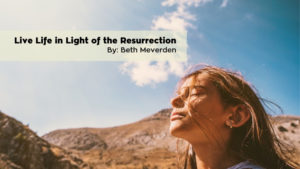 What would your life be like without knowing the truth of Jesus' Resurrection?
Without the resurrection, there is no hope. As parents that's a pretty scary thought. Why have children
at all? If you have them, what hope and purpose do they have?
If this life is all there is for us or for our children, "eat, drink and be merry" (Luke 12:19) seems like a
good motto. If that's the case, we'll encourage our children to do well in school so they can go to college
and make lots of money so they will be able to "eat, drink and be merry," too. What a sad and vicious
circle. The context of that verse is a good lesson on its own for another time.
That selfish thinking is what we are surrounded by in our neighborhoods, in our schools, in our world.
Those who don't know the truth about Jesus think it's up to them to live a good life, to make money to
get what they want and what their children want… just to have what they want. That's it. Just having
what they want.
That thinking lacks purpose, impact, and influence… hope.
Stop a minute and think of the faces and names of those you know who live without the hope that
comes from Jesus' resurrection. Don't slump into mourning for them, sit up and make a plan. Start
praying for those faces, names, and their souls. Ask God for opportunities to have spiritual conversations
with those people you wait for your children with after school, for your children to have opportunities to
share their faith in school, for open hearts and hope-longing souls to be ready for truth and light and
hope.
Stop living life to protect yourself and your children from the darkness. You already have The Light. Live
life in light of the resurrection and bring others that Light and Hope, too.
May the God of hope fill you with all joy and peace as you trust in him, so that you may overflow
with hope by the power of the Holy Spirit. Romans 15:13
What's your plan to live life in light of the resurrection today?